Research shows that people perform better when there is art in the workplace – or classroom. It makes people happier and healthier – and 32% more productive. That's why there's a link between the artwork and sustainable building certifications: At the end of the day, sustainable spaces exist to help people be at their best when they live, work, and play.
For example, Fitwel rewards projects that make staircases inviting with art and signage, and WELL rewards projects that have meaningful art programs throughout the space. Exploring the connection between art and space is gaining importance for us as sustainability consultants, which is why we are thrilled to highlight two of our recent projects and their focus on art.
Art Matters
Everyone knows that first impressions matter. What welcomes you into a space has a lasting impact, regardless of your role as a client, visitor, or staff. The artwork sets the tone by offering a glimpse into the organization and its mission and values.
Two projects that illustrate a deep connection to the mission are Tri-C West (LEED Gold Certified) and Bendix (LEED Silver Certified). Through the use of commissioned site-specific artwork, they allow the art in the space to serve as both visual interest and connection to who they are as an organization. The success of the artwork for both organizations is the clarity of concept that is reinforced throughout the spaces.
Tri-West Stem
Tri-C West STEM building's artworks are based on the STEM curriculum's four disciplines - Science, Technology, Engineering, and Mathematics. The artwork in the space, abstract in nature, conveys these concepts to students, faculty, staff, and visitors. The artwork reflects the connectivity of the disciplines with the goal to spark discovery, investigation, and reaction.
Of the five commissioned pieces, two are interactive pieces. A wall sculpture features 546 freely spinning ceramic cylinders, each with three different glazed colors. The artwork is activated by spinning the cylinders to create an ever-changing field of color and movement. Watch in action here!
A cypress and copper artwork invites the viewer to place their hand in the center copper medallion. Over the course of time, the cumulative effect of handprints will create a patina in the center of the art piece.
By focusing on abstract pieces, the artwork further engages students to make connections with the concepts that they learn in the classroom.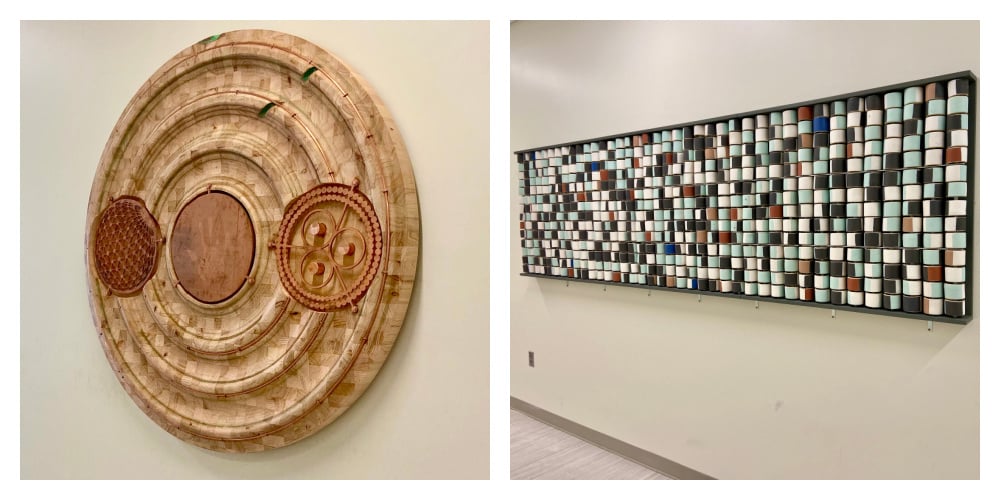 Bendix North American Headquarters
Bendix commissioned local artists to connect with their products in creative ways. The site-specific artwork marries concepts of innovation with the brake components that are central to the product line at their Avon, Ohio facility.
A monumental lobby sculpture, made of aluminum and steel, serves as an illustration of speed and the open road. As a statement piece, this sculpture pushes the edges of strength and vitality in concept, design, and execution and points to the engineering that is central to its product and mission.
A wall covering with vibrant graphics picks up elements of the road, quick response, and imaginary vistas. Featured in a workstation area, the 52' long art piece speaks to the strength of Bendix across the globe.
Both of these organizations rely on highly skilled and technical information - one for education and the other for research and development. Artwork in their facilities honors the role of innovation in science and connects with the humanity within. As an arts consultant and designer, my role is to create visual connections between language and artists and their artwork.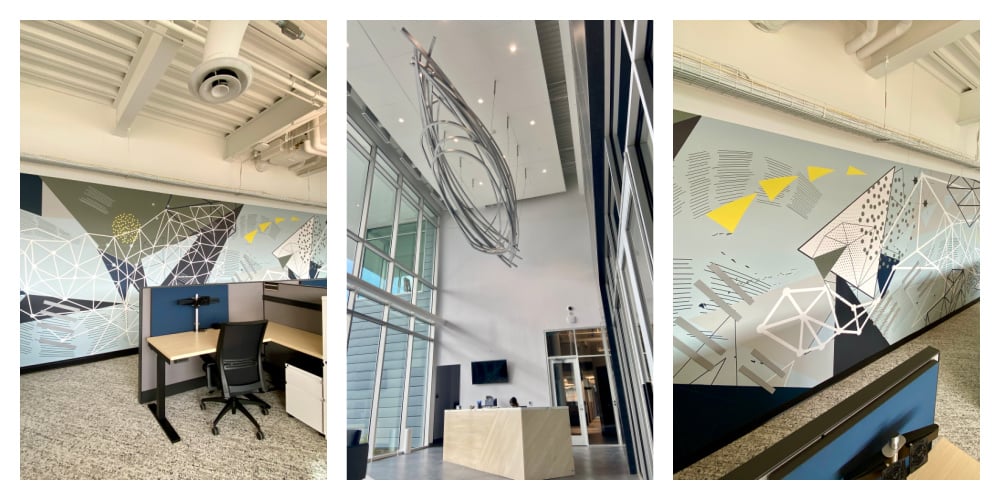 Rethink Your Next Space By Making it More Sustainable
Just as an artist wants to see and define the whole picture before completing a piece of artwork, we approach our work the same way - especially in today's world where sustainability continues to grow in its importance for our planet. As sustainability consultants, we at Emerald Built Environments can help your business look at the whole picture and come up with a plan to help you set and achieve your desired sustainability goals, while at the same time helping you to create a building that is masterpiece worthy!
About Our Guest Writer
Christy Gray is an artist and NCIDQ-certified interior design professional with more than 20 years of experience in project management, organization, planning, sales, and marketing. From selecting artwork to working collaboratively with artists and clients to develop commissioned artwork for public spaces, Gray works with clients to create a diverse collection that both enhances the environment and communicates the mission.