According to the Department of Energy, 39% of U.S. fossil-fuel emissions come from residential and commercial buildings. Most of this energy is used for space heating and cooling, heating water, and cooking. Emissions can be avoided through electrification: switching over to electrical power. Electrification is an important step towards reducing fossil fuel use and carbon emissions, creating a more energy-efficient system for your business, and contributing to a more sustainable future.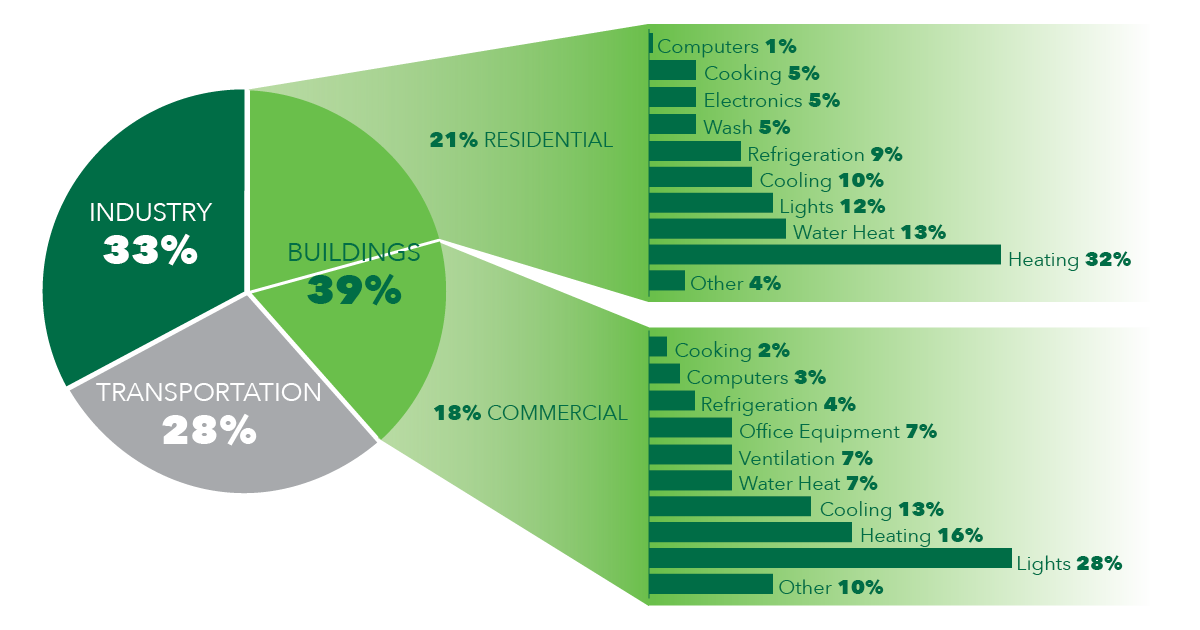 By reducing energy dependence on carbon-based energy sources and increasing the use of renewable energy sources such as solar, hydroelectric, and wind, we can help reduce carbon emissions and the negative impact buildings have on climate change. Additionally, taking energy production to the site or neighborhood level reduces financial risk by safeguarding from mass power outages, blackouts, and brownouts.
History of Electricity in the U.S. + Public Policy
When electricity became a driver for business, and a benefit for homeowners, getting electricity to every American household and business became a necessity. Utility companies a century ago were growing at the local/regional level and focused on providing electricity to urban centers. Rural America was left out. President Roosevelt oversaw the passage and early implementation of the 1936 Rural Electrification Act and the creation of the Rural Electrification Administration. This act ensured that homes would have access to loans for electricity distribution as well as for the installation of plumbing and electrical appliances.
Now, 80% of US land has infrastructure such as electric plants, transmission, and power lines. In 2021, 80% of U.S. electricity was generated from fossil fuels, down from 90% just 10 years ago. As we've discussed in other blogs, the Federal Government is still working on this topic, now with a focus on improving our energy infrastructure with renewable energy sources, marked by key metrics for reducing our reliance on fossil fuels and measurable reductions in greenhouse gas emissions
Policy Trends in Electrification
Today, several levels of government and authority have control and jurisdiction over individual, state, and federal energy production. Although a small step, in 2021 the U.S. Environmental Protection Agency (EPA) removed gas appliances from the "most efficient" designation list. As of 2021, Congress is considering the Build Back Better Act, which, if passed, would provide $12.5 billion in funding for electrifying and decarbonizing middle and low-income housing through rebates to retrofit homes and public housing complexes with energy-efficient appliances. While the act has passed the House, it needs to be approved by Congress and signed by President Biden to be instituted into law. 
Outside of federal law, individual states hold jurisdiction on electrification in the residential sector. According to a policy brief by the American Council for an Energy-Efficient Economy (ACEEE), only six states, Alaska, California, Colorado, Connecticut, Massachusetts, and Virginia, provide guidelines for fuel substitution or have adopted net zero goals. Ten states have banned fuel-switching from fossil fuel to renewable energy sources, including Arizona, Arkansas, Louisiana, Texas, and West Virginia. All other states either have no policies in place for or against fuel-source switching but allow it in certain cases or have no policies regarding it at all.
States Making Progress
Given this information, are there any states that are moving more quickly towards energy independence through electrification? According to the ACEEE's 2022 report analyzing and researching electrification of buildings, the most extensive programs are on the West Coast and in the Northeast and involve electric hot water heater pumps used alongside other fossil-fuel-based energy sources.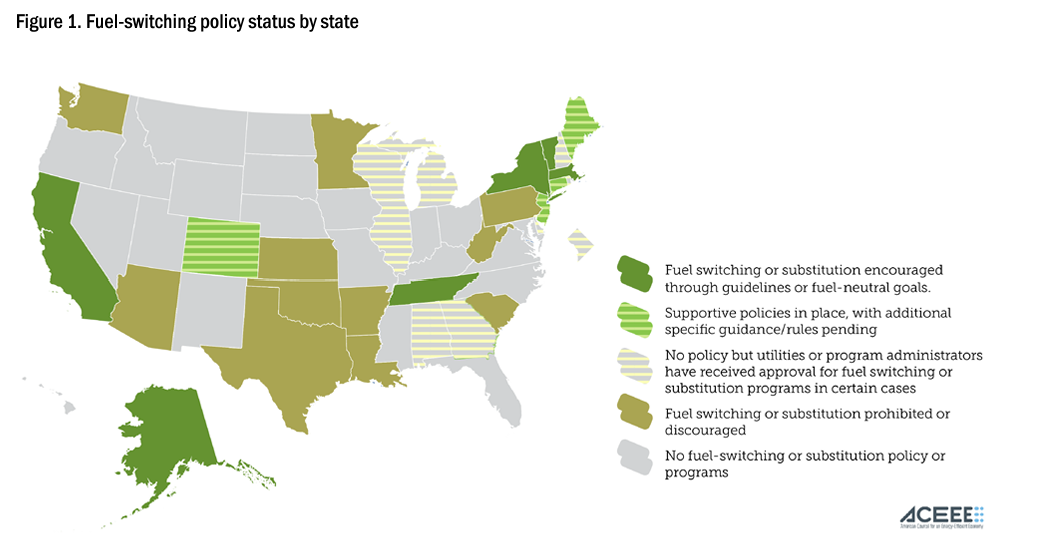 *Image from ACEEE's 2022 Building Electrification Report.
More specifically, California is leading in the electrification of newly constructed buildings. According to the 2022 ACEEE report, in July 2021, 49 California municipalities passed laws requiring the construction of all new residential and commercial buildings to have all-electric or pre-wiring for future electric appliances. Additionally, the California Energy Commission released new energy-efficient building standards that, starting in 2023, will incentivize builders to use electric, rather than natural-gas powered heating for both residential and commercial buildings.
States with policies to encourage electrification also have utility-led programs to encourage electrification. Of these states, CO, NY, MA, and VT are leading the way, with TN and AK anticipating to up their game soon. There is a notable trend among states who rely on transported fossil fuel supply are the states leading the way. The cost of converting to electrification is a viable option for transportation costs..
Organizations Encouraging Electrification
While federal and state governments create their legislation, several organizations are working to create sustainable frameworks for policy on the community level across the country. Among the many is Greenlining, a California-based non-profit that supports low-income marginalized groups in advocacy efforts for sustainable development in their communities. In collaboration with California's Energy Efficiency for All Coalition, Greenlining created a community-focused framework for electrification in a five-step process:
Assess Communities' Needs
Establish Community-Led Decision-Making
Develop Metrics and a Plan for Tracking
Ensure Funding and Program Leveraging
Improve Outcomes
The founding ideas of Greenlining's work focus on building "Transformative Climate Communities" that work to "empower historic systemic disinvestments and are on the frontlines of climate change." Greenlining's work shows the impact that community-centered advocacy and implementation of electrification can have in building climate resilience. This climate resilience built on community and grown alongside energy independence is quintessential on a large scale to reduce carbon emissions and the impact of climate change on current and future generations.
Developing an Electrification Plan for Your Business and the Future
Successful electrification projects require knowledge of local, state, and federal energy laws, thorough evaluations of existing or future building plans, knowledgeable contractors, and systems to assess and monitor energy metrics. Furthermore, working with experts to create a 5–10-year plan for energy independence will be crucial to track, record, and report energy metrics for ESG reports, consumers and investors, and employees.
Grid-supplied electricity is considered a Scope 2 emission, which covers purchased energy and water. As 39% of carbon emissions are from the building sector, electrification will reduce your scope 2 emissions, thus having a positive contribution towards reducing your business's impact on the planet. Working with our experienced team of experts fluent and familiar with energy consulting, building consulting, green building certifications, integrated design, energy modeling, and more, we will help create a custom Sustainability Roadmap to work toward energy independence, electrification, and long-term sustainability for your business!