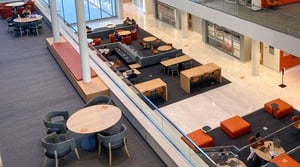 What furniture is right for this space? Frequently a perplexing question, deciding on furniture can be a time-consuming and challenging task. Size? Color? Cost? Comfort? All are important factors to consider during the decision-making process, but where to begin if your goal is to make your space more sustainable? Thankfully, two popular sustainable building standards, LEED and WELL, provide guidance on how to integrate furniture selection into a project's broader sustainability strategy. Utilizing this approach, project teams can choose furniture that will help protect the environment and promote human health and well-being while also earning points toward certification.
How Furniture Helps LEED Strategy
Environmental Product Declarations (EPDs): One simple option for LEED is to use furniture to help reach the 20-product threshold in the Environmental Product Declaration credit (v4.1). To earn this credit, projects need to collect EPDs for least 20 different products used on the project. For example, if an office has 4 different types of Herman Miller chairs, all with EPDs, the chairs themselves would count for one-fifth of the 20-product goal. Many office furniture manufacturers clearly list which products have EPDs and make them easy to download from their website.
Sourcing of Raw Materials: Another way furniture can help projects earn LEED points is through the Sourcing of Raw Materials credit. New furniture made with recycled content, reused furniture, and salvaged furniture all count toward the 15% by cost threshold for this credit (v4.1). Additionally, any furniture from manufacturers that have 'take back programs' (programs wherein the manufacturer will take back the furniture at no cost at the end of the product's useful life) can also count toward this credit. As a real-world example, this credit is frequently applicable during an office or business relocation – if you bring your desks and chairs with you, these 'reused' products will help your project meet the 15% by cost goal (reused furniture counts as 200% of their cost!).
Material Ingredients: Furniture can also help projects earn both Option 1 and Option 2 in the Material Ingredients credit, for a total of two points.
Option 1 requires that projects use at least 20 different products utilizing at least one of the following programs to demonstrate the chemical inventory of the product:
Materials with Health Product Declarations – HPDs are reports that disclose any known hazards based on the Health Product Declaration Open Standard.

Cradle to Cradle Certification OR a Cradle to Cradle Material Health Certificate

Declare label (designated as Red List Free, LBC Red List Free, or Declared)

Products that meet the ANSI/BIFMA e3 Furniture Sustainability Standard. Based upon the product's performance against this standard, it may contribute toward the 20-product count.

Product Lens Certification

Manufacturer Inventory (must utilize Greenscreen or GHS)
Option 2 assesses the different certification and transparency levels of the programs listed above and requires the project to use at least 5 products sourced from at least 3 manufacturers — with less transparent programs valued at ½ a product and more transparent programs valued 1 ½ of a product, as illustrated below. Documentation collection for Option 1 can often help with achieving Option 2, earning projects 2 points for the Material Ingredients credit:
Certification Type & Level

Product Valuation

Material Ingredient Screening and Optimization Action Plan prepared by manufacturer

½ product

Cradle to Cradle Certified or Material Health Certificate at Bronze level or higher

Declare labels designated as Red List Free or LBC Red List Free

1 product

Cradle to Cradle Certified or Material Health Certificate at Silver level or higher

1 ½ products
Low-Emitting Materials: If 75% of the furniture by cost is low-emitting (tested and compliant with ANSI/BIFMA e3-2014e or e3-2019e, inherently non-emitting or reused), it can contribute toward one of the categories that earns points under the Low-Emitting Materials credit. This pathway is often a stretch for projects today, but in the future may become a real opportunity. Reused and salvaged furniture can contribute to the Low Emitting Materials credit, the Sourcing of Raw Materials credit, and WELL credits too!
Additionally, furniture can indirectly contribute to LEED credits such as Indoor Air Quality Assessment (Option 2, Testing) and Quality Views:
Indoor Air Quality Assessment (Option 2, Testing): Furniture made with low-emitting materials will not adversely affect the indoor air quality by off-gassing (releasing volatile organic compounds (VOCs) into the air). For projects pursuing Air Testing before occupancy, this is a win.

Quality Views: Partitions, bookcases, non-moveable standing desks, and anything that is above one foot high can obstruct views (per LEEDv4.1 requirements). Specifying furniture lay-out and design to maximize views is an important design strategy to consider.
Furniture & WELL
The WELL Building Standard differs from LEED as its primary focus is on the building occupants' health, safety, and well-being. There are three overarching categories where furniture can fit in: Movement, Materials, and Mind.
Movement: Allowing for and promoting movement throughout the day
Ergonomically designed furniture contributes toward WELL optimizations in the Movement Category. Utilizing ergonomic chairs or standing desks, which are considered active furnishings, could be a good option. Additionally, designing workspaces to allow for sit-stand desks, tread desks, or other 'active' furnishings are also beneficial to meeting several WELL optimizations. Promoting movement throughout the day is crucial both for physical health and in preventing "ASSfixiation" of the mind, a mental affliction that adversely impacts creativity, productivity, and morale of office workers and Zoom workers alike!
Materials: Reducing exposure to hazardous building materials
Similar to LEED, utilizing low-emitting, reused, or salvaged furniture can help project teams earn points in the Materials category for optimizations such as Short-Term Emission Control and Long-Term Emission Control. In addition, utilizing furniture products with Material Transparency certifications contributes toward earning the Enhanced Material Precaution and Material Transparency WELL optimizations.
Mind: Promoting mental health and well-being
The WELL Building Standard places an emphasis on the benefits of biophilia — "the idea that humans have an affinity toward the natural world." Utilizing furniture that mimics the outdoors with natural materials, patterns, colors, or images helps project teams earn the WELL Access to Nature Precondition (requirement).
The Takeaway
While furniture alone may not be the key to achieving a green building certification, thoughtful furniture selection and intentional design choices can contribute by earning points toward LEED and/or WELL certification. More importantly, these strategies can minimize negative impact to the environment, improve human health and well-being, and enhance a project's overall sustainable performance — and frequently its aesthetic appeal as well! To learn more about green building certifications, check out our guide to sustainable building certifications:
Need help earning your green building certification?
Feel free to ask us your questions below!