Historic buildings are beautiful and connect us with history. There is a lot of value in preserving old architecture so that it can be appreciated for generations to come. But how can these sites maintain relevance in the 21st century where sustainability is top of mind?
Historic buildings and sustainable architecture are not mutually exclusive. While older buildings may have been built prior to the development of modern sustainability standards in architecture, many utilize elements that inherently are sustainable. They can also be updated to close the gaps in areas they are not.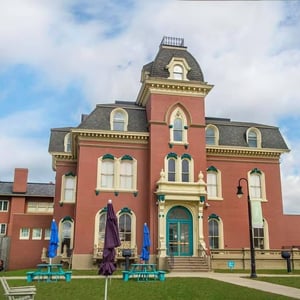 In fact, there are a number of historic buildings both in the United States and across the world that achieved LEED certification. For example, The Fay House in Cambridge, Massachusetts is the oldest LEED-certified building in the United States. Originally built in 1807 as a private home, it is now part of the Radcliffe Institute of Advanced Study at Harvard University. Through renovations including the use of geothermal energy, the addition of accessibility features, and daylight harvesting, the building has been brought into the 21st century and has qualified for LEED Gold certification.
Emerald boasts the completion of LEED Operations & Maintenance (LEED O+M) certification at the platinum level for the Children's Museum of Cleveland. The museum occupies a building that was built as the residence of a prominent Cleveland businessman and Civil War General Anson Stager in 1866.
What is the National Register of Historic Places?
The National Register of Historic Places has existed for nearly 6 decades to recognize historic places worthy of preservation. It was established in 1966 by the National Historic Preservation Act (NHPA) and is currently managed by the National Park Service. As of 2020, there were over 96,000 properties listed on the National Register.
To be listed on the register, buildings are generally over 50 years in age and belong to one or more of the following categories fall under the following criteria for evaluation:
Event: Sites that have played a role in major events that have shaped American history.
Person: Places that are associated with individuals who are significant to American History.
Design/Construction:Buildings that have distinct characteristics of a particular design period, method of construction, have high artistic value or represent the overall work of a distinguished designer.
Information Potential: Sites that have already contributed or will likely contribute to history.
The purpose of the register is to recognize important places that are significant to American history and culture. There is no requirement that the sites listed on the register need to be open to the public or even preserved. However, there are incentives associated with being listed on the register to promote private investment in the preservation of these historic sites. Sites listed on the register are eligible for federal preservation grants, federal tax credits, preservation easements, and building code alternatives. In 2020, the Federal Historic Tax Credit resulted in over $7 billion in rehabilitation investment. Just over half of this investment was concentrated in areas of low to moderate income.
Rehabilitation for Sustainability
The Secretary of the Interior oversees the treatment of historical buildings. It distinguishes the difference between preservation and rehabilitation. Preservation pertains to the maintenance and repair of existing historical materials, while rehabilitation pertains to the need for adding to or altering historical material while retaining its original character. The Secretary of the Interior also has guidelines specifically for rehabilitation projects focused on improving sustainability.
In general, it will always be more sustainable to renovate existing infrastructure instead of demolishing and starting from scratch. Many historic buildings were also built with innate sustainable qualities relating to heating, lighting, and cooling. Historic awnings and shutters were used to keep interiors cool on sunny days. Skylights and windows provide natural light, reducing the need for electrical energy. During rehabilitation, keeping these original elements can both preserve the original integrity of the building while also prioritizing sustainability.
When rehabilitating historic buildings there are often multiple challenges. Finding ways to update while retaining the original characteristics and focusing on sustainability can be difficult. Structural audits are helpful when assessing the safety and feasibility of renovations. A common problem with older buildings is lack of insulation and air leakage, which can have a large impact on the amount of energy needed to heat and cool. For this problem and a few others that are common, the Secretary of the Interior has materials on best practices and recommendations.
For example, the Delaware building in Chicago, Illinois had 102 original wooden windows that were over 100 years old. While the glass panes were in good condition, they were poorly insulated and had high amounts of air leakage. Instead of removing and refitting all the windows with newer replacements, a creative solution was to simply add another window on the outside of the original panes with modern insulation. That way, historic elements were preserved while energy efficiency was improved in a cost-effect way.
Let's Raise a Glass to Historic and Gold
Alcove by MadTree is a restaurant/bar in the MadTree Brewing portfolio. It is located in a historic building in the downtown Cincinnati neighborhood of Over-The-Rhine (OTR). The restaurant and bar was designed and built with green building in mind. The space is filled with living walls, a lush patio, and light-filled lounges, encouraging occupants to relax and revive with good friends and good food in a great atmosphere.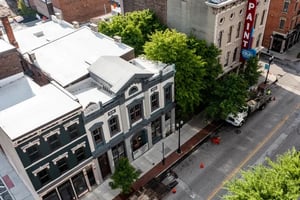 The HVAC systems used in the Alcove are high-efficiency, VRF style (variable refrigerant flow) heat pumps. These systems allow for excellent space temperature control through zoning and the ability to efficiently provide heating and cooling as needed without the use of burning fossil fuel on site.
Alcove is located within a historic building in OTR and many historic structural details were incorporated into the design of the new space, resulting in 99% of the structural elements being reused and retained.
Alcove - and the complete MadTree family - is steeped in a commitment to the community. All of MadTree's properties are proud to be part of the 1% For the Planet group of companies committed to donating 1% of their gross sales to non-profits focused on environmental sustainability. MadTree is also a Certified B Corporation.
The MadTree Alcove project and LEED Boundary includes the basement, ground floor, patio, and entry of the 1410 Vine building, excluding the second floor which was not altered during this project. MadTree Alcove received LEED Gold Certification in July 2022. Cheers to MadTree on its commitment to sustainability and historic preservation!
Historic Buildings and Sustainability
We can celebrate and care for historic sites across our nation while also keeping sustainability top of mind. Rehabilitation projects across the nation can and should prioritize sustainability in renovations. Discover how Emerald Built Environments can assist you with your rehabilitation project through our four-step process.