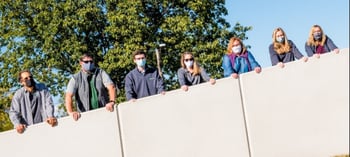 "What are we doing to celebrate Earth Day?" is a question we ask ourselves each year. After all, one of our core values is
Environmental Sustainability
. As we considered potential 2021 themes for Earth Day, our team kept coming back to the idea of Goals. We think goals are really important – they provide a framework for forward progress and, when properly designed, create momentum for the team.
When we consult with our clients, we start all engagements with a question: What is the project goal? From there, we dive deeper into what success looks like, and we encourage our teams to think in terms of outcomes, metrics, stakeholders, and aspirations. We then leverage the cross-functional knowledge of our team to help our clients meet their goals. As we say internally, we help teams achieve winning results, and, this year, we wanted to apply this core focus to our own actions. How could we set goals to help make our lives more sustainable?
The COVID crisis has touched all of us, and, as we move into a post-pandemic world, our team is committed to prioritizing the health and safety of people in addition to protecting the health of our environments. Just as the pandemic has affected people across the globe regardless of location, status, race, religion, or other factors, climate change will do the same. In fact, a majority of Americans already report feeling the local effects of climate change. The connection between human health and our planet's health is clear, but what can we do?
As a team, the answer is clear. We know that how we build and maintain the built environment matters as much for us as it does for our planet. At Emerald, we are focused on helping people enhance the built environment by making them sustainable environments. That is why our company goal is to enhance 2,030 sustainable environments by 2030. During the next nine years, we are committed to guiding teams towards winning results by helping them set and achieve their goals – goals that focus on creating sustainable environments. (For context, our count to date is 385.)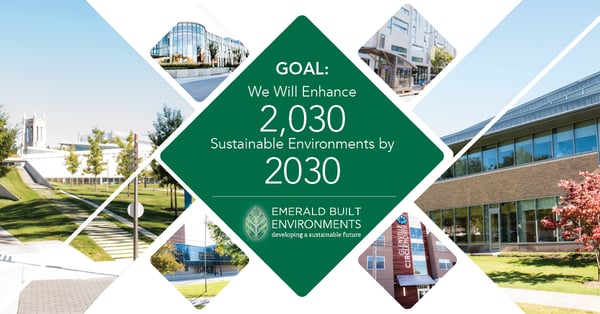 But we know we must do more. We know that if we want to improve human health and well-being while decreasing the negative effects of climate change, we must all do our part. This means not sitting back while others work on huge climate innovations. It means changing daily habits to live more sustainably in our personal lives. In February, we posted a blog where each of us at Emerald set a goal for sustainability that we personally felt was attainable.
Earth Day is the perfect time to reflect upon our sustainability goals. In the same way that we regularly work with our clients to track progress toward their goals, we are taking time today to consider how we are doing, reflect on what we've already achieved, and recommit ourselves to reaching our goals.
Below is a short update from each of us:
Sophia (Shop Local): Due to the pandemic I began ordering most of my purchases online to avoid going into stores. As the months went by, I realized how much packaging I was throwing out/recycling and the number of trucks that had to stop by for delivery. I set my goal to shop local to reduce the carbon footprint of shipping my products and help support local companies. I discovered a lot of local shops offered curbside pickup and had replacements for products and services I had been shipping to myself. So far, I have transitioned a lot of my puppy's toys and treats to local retailers, continued ordering my local rescued produce box and have developed a habit of "small business self-care Saturday" where I select one or two rewarding food items or services to relax, such as grabbing a local dessert or breakfast. I hope to buy more of my groceries from farmers markets and try local shops for cleaning products as this year continues.
Laura (Invest in Electric Vehicle, Reduce Single-use Plastic): So far this year I have gotten as far as ordering a new EV car, which is anticipated for delivery in May. I have also received quotes for solar on my roof and garage and am still working on the scope of the project. As it relates to single-use plastics, I noticed my biggest offender is not plastic bottles but rather take-out food containers. Since many food containers are not recyclable, I am focused on finding alternative uses. I am growing seeds in my single-use plastic food containers, used a few for a painting project and am storing batteries and small items in others. I will note, however, that I have started to see more and more sustainable food containers as the pandemic carries on. It helps when the restaurants care too!
Matt (Improve Water Conservation, Solar at Home): Our first step was to provide "training" for our children and we saw a noticeable reduction right away. It is important to understand and reinforce the simple ways to conserve water, just by not using water when you do not need to. For any family, laundry can be a big water user. We have upgraded to a water conserving and energy star labeled washer. Our home already had low flow toilets and shower heads. We have installed the necessary electric sub-panel as a first step toward solar connection. Our goal is to have 1200 Watts installed this summer.
Abby (Reduce Consumption): Spending the last year at home, there was rarely a day without a package on my front steps. This is detrimental to the environment in many ways—pollution and energy use during transport, the environmental life cycle impacts of new products, just to name a few. Starting in 2021 I have made a huge effort to limit my family's consumption, only purchasing when necessary. Here are a few rules I have been following:
If we already have an item serving the same purpose, we should not buy a replacement (For example if we already have a perfectly fine shampoo at home, we should not buy another—no matter how good the marketing is!)
Try to repurpose as much as possible (For example, refinishing or refreshing furniture rather than replacing)
Having 'No Spend' months, where we set a goal of only purchasing necessities like groceries and diapers. Doing so sets good habits for the following months.
These changes have not only reduced the number of packages on my doorstep and have reduced my family's environmental impact but have also been wallet-friendly!
David (Eat Meatless Once/Week, Reduce Beef Consumption): I have really enjoyed the transition away from meat in my diet! While I still consider it a challenge, I have done well to pair my new diet with my effort to improve my skill at cooking. The book of tried-and-true recipes is fuller, and most are meat-optional. Most of the meat I still eat is from family or friends who put a lot of effort into their meals, and I want to be polite. My next endeavor is to eliminate single-use plastics in my routine, which is a challenge because many of the restaurants I order from do not use sustainable packaging and some really like to pile on the plastic. Outside of food it has not been too difficult to get a head start on reducing my plastic use.
Casey (Switch to Pescatarian Diet, Reduce Single-use Plastic): I have done very well on my goal of switching to a pescatarian diet. I only consume fish about once a week and focus the rest of my diet on meatless options. It was difficult at first, but I read a book on plant-based eating and learned about all the sustainable food options that are available to me. I am still working on limiting single-use plastics. If I forget to fill up my water bottle and I am not home, I will buy a plastic bottle from the vending machines on campus. I make an effort to reuse these bottles before throwing them out, but ideally, I would like to not be buying any by the end of 2021.
Michael (Start Composting at Home): In February, my family and I joined a curbside pick-up composting program offered by Rust Belt Riders, a local organics recycling company based here in Cleveland. Throughout the week, we collect all our food scraps in our handy Rust Belt Riders bucket, we place the full bucket outside on our service day, and they stop by and replace our full bucket with an empty one – super easy! In addition to learning more about what can be composted and what cannot, it has been very eye-opening for us to see just how much food we were throwing out – about 10 pounds per week! It feels so great to know that rather than rotting in a landfill, our food scraps are instead going to help improve our local food system by becoming healthy new soil!
What goals are you working towards? Tell us below!