Following our quarterly planning retreat in October, our team went on a little adventure. We rode Mrs. Trolley from the eastern edge of Cleveland through University Circle, up Euclid to 30th, over to Tri-C and back to the East side via Woodland and Larchmere. Prior to the tour, I made a map for Mrs. Trolley's driver, with intention of passing current and past EBE projects. I had a few on my mind as I was making the map.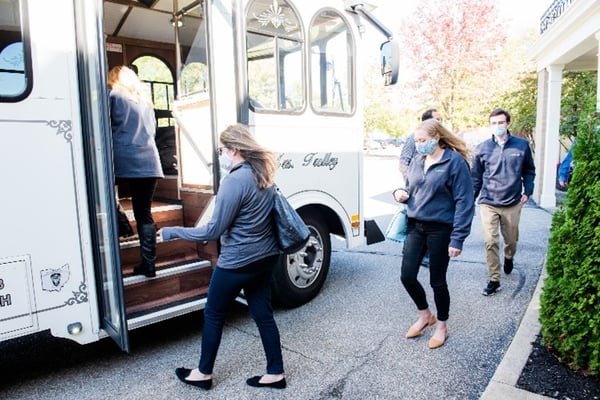 EBE Team boards Mrs. Trolley
First up on this trip was a glimpse of sitework at North Park Place, which will soon emerge as sustainably designed and built high-end townhomes (they are pursuing Energy Star for Homes certification).. The site overlooks University Circle and Doan Brook.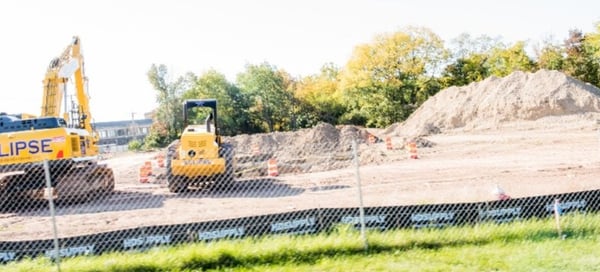 Sitework begins at North Park Place
Next we passed ThinkBox, a classroom and incubator space for start-up companies, at the southern edge of Case's campus. Traveling East on Euclid, we passed two high-rise mixed-use projects - The Commodore (pursuing LEED) and Uptown (LEED Silver). It was at that point the wheels fell off the bus, in a good way!
Matt started calling out other buildings not on my list. "See that one over there? That's Centric…" he's hollering, "on the left are the dorms we did."
We are thankful for our relationship with Case Western Reserve University, where our energy services team has modeled, audited and commissioned many buildings, including Mandel School for Applied Social Science. Case trained our very own Sophia Hestad BSE, EI, LEED AP, Fitwel Ambassador, who first joined us through our internship program in 2017 and has been full time since 2018.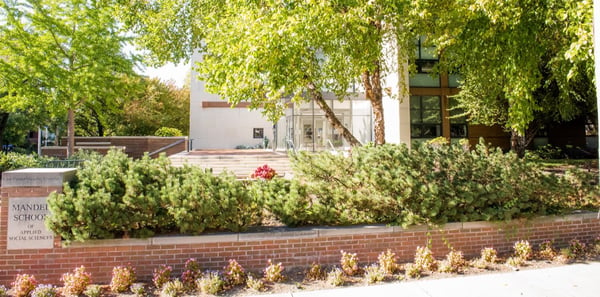 Emerald provided energy analysis for the Mandel School
Since it was a beautiful fall day, we stopped at Tinkham Veale Student Center for a photo op. A few years ago, our team served as the construction-phase LEED consultants for this building that emerges out of the Earth with a living roof.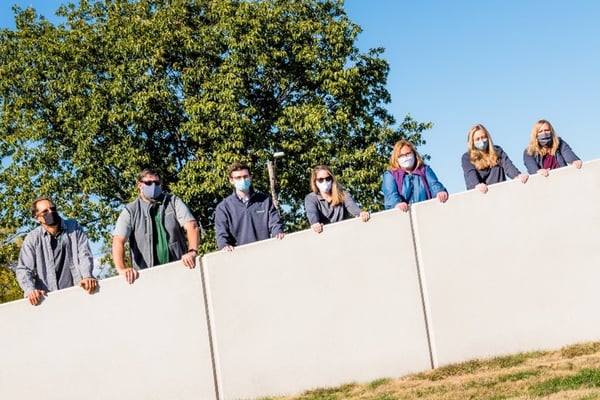 Emerald team atop the living roof at the Tinkham Veale Student Center at Case Western Reserve University
We detoured through the greater-University Circle neighborhood and wound up passing the future site of Woodhill Supply, on our way to Circle North, which achieved LEED Silver certification earlier this year.
Traveling West up Euclid, you could hear Matt and I bantering from the back of the Trolley, "oh, forgot that one too". Quick, look to your right – we did all 5 of those buildings (referencing several buildings in the Midtown area).
Needless to say, when we think about the fact that we've touched over 380 projects, and about 75% of them are in Cleveland, it is no surprise I was heard exclaiming, "We Greened this Town." Truth be told, we haven't "greened" it yet – although we've helped to guide the sustainable development and re-development build for some of it – but by no means is the work done.
The image below, taken at the pedestrian entrance to the Tinkham Veale green roof, designed by Perkins & Will, reminds us that we inherit the past and create the future. At Emerald, our tagline is: Building a Sustainable Future. We've been at it for some time now. In support of our core value "Cultivate the Team" we will showcase the positive impacts of sustainable development and the diversity of teams, building types and metrics so more can learn and connect.
For the next 365 days, we will post on Facebook, Instagram and Twitter about one of our projects. Our projects are not the only ones out there, and we invite you to add yours to our list by using hashtag #365DaysofSustainability and posting your projects along side ours. By showcasing our sustainable buildings together, we help show the world what is possible, one building at a time.
Ready to join #365DaysofSustainability? Connect with us on Social Media
Facebook - Instagram - LinkedIn
2022 Update:
Take a minute to watch our video summarizing our year of posting!
Photo Credits: Marianna Edelman Photography and Design