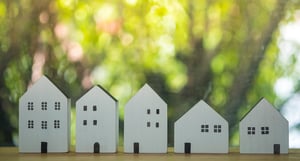 The availability of housing, and more specifically affordable housing, represents one of the most fundamental and significant challenges currently facing elected officials, community development organizations, and developers across the country. In recent months, housing costs have risen dramatically, increasing cost burdens on homeowners and renters alike. This development, while being felt throughout the nation, has more acutely impacted middle- and lower-income individuals and families and exacerbated a longstanding problem present in many communities – a lack of affordable housing.
The National Low Income Housing Coalition estimates that there is a shortage of 7 million affordable homes for our nation's 10.8 million extremely low-income families. The lack of affordable housing is contributing to widening inequality, as middle- and lower-income individuals and families are being priced out of communities across the country and being denied the opportunity to build wealth through homeownership. At Emerald, we strongly believe that it's not sustainable without social equity, and we are actively working with partners in our hometown of Cleveland and around the country to help develop affordable and sustainable housing.
Enterprise Green Communities
There are numerous green building certifications available for housing projects, but Enterprise Green Communities is the only national green building rating system that is designed specifically for the affordable housing sector. Its most recent version, v2020, represents a clear and cost-effective framework for multi-family and single-family new construction, substantial rehab, and moderate rehab projects. The 2020 Criteria also leverages concepts from the WELL Building Standard (WELL), the premier framework for advancing health and well-being in buildings - projects that achieve certification with under Enterprise's 2020 Criteria are also recognized as certified under WELL.
The Enterprise Green Communities Criteria are organized into 8 categories:
1) Integrative Design: To engage stakeholders, identify collective priorities, and ensure sustainability, health, resilience, and placemaking goals are achieved
2) Location & Neighborhood Fabric: Develop in a neighborhood with existing infrastructure, transportation, and services to enhance community vitality and encourage more resource-efficient development of land
3) Site Improvement: Follow low-impact development principles to minimize a project site's environmental footprint, protect sensitive ecosystems, and reduce infrastructure costs associated with stormwater management
4) Water: Implement water quality and conservation practices to enhance resident health and well-being, reduce property operating expenses, and conserve a precious resource
5) Operating Energy: Reduce the amount of energy required for building operation and move toward clean energy sources to provide environmental benefits, improve conditions for resident health and comfort, and impact property operating expense
6) Materials: Consider health and environmental impact when purchasing, installing, and disposing of building materials to improve living conditions on the property
7) Healthy Living Environment: Prioritize a healthy living environment by reducing exposure to toxins, managing the indoor environment, and promoting health through design, construction, and operations strategies
8) Operations, Maintenance & Resident Engagement: Provide educational materials and orientations to help educate residents and staff on features that were designed to deliver health, economic, and environmental benefits
Financing Housing Projects
Various funding mechanisms exist to enable project teams to pursue affordable housing projects that will provide transformational opportunities for residents and communities alike. Some of the most common examples are as follows:
Local jurisdiction incentives such as city, county, and state. Many state and local communities have grant, loan, and tax abatement programs, some of which are searchable online HERE
State Housing Authority distributing federal LIHTC dollars (low incomelow-income housing tax credits)
179 D / 504 L for federal tax incentives
PACE financing vehicles
HUD loan programs – Green Mortgage Insurance Premiums (MIPs)
Partnerships Are Key
At Emerald, we have the privilege of collaborating with amazing partners who understand the fundamental importance of affordable, quality, and sustainable housing in communities near and far. We are proud to have partnered with Greater Cleveland Habitat for Humanity on various new construction and rehabilitation projects utilizing Enterprise Green Communities – including recently certifying a group of 12 new homes on Cleveland's Grandview Avenue.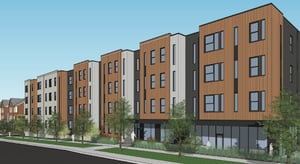 We are thrilled to be part of the Woodhill Development, a project in partnership with the Cuyahoga County Metropolitan Housing Authority and City Architecture. This 6-phase project that is replacing housing for the neighborhood and adding capacity recently won a $35 million grant from HUD. We've been working with the team since 2019 when we held stakeholder engagement sessions with residents of the current Woodhill neighborhood. Stakeholder engagement was a critical part of the grant requirements and also an important part of the project process for developments seeking to certify with Enterprise Green Communities.
In addition to projects underway, recently we've seen more activity among financial institutions, such as KeyBank, to take steps to provide financing to minority developers hoping to build affordable rental housing in marginalized communities. Many local developers, recognizing the housing need, are also prioritizing this work. The bottom line is that all the necessary stakeholders must be engaged, they must collaborate effectively, and they must prioritize the residents and communities they serve to make these transformational projects a reality.
Consult with Emerald On Your Sustainable Housing Project
Emerald's four-step process starts with listening and strategizing. Having the right team at the table from the beginning ensures project success. If you are considering the sustainable performance of your housing project – especially if it's affordable housing – be sure to start with a collaborative goal-setting process. Let Emerald guide your team to success. Schedule a consultation today!