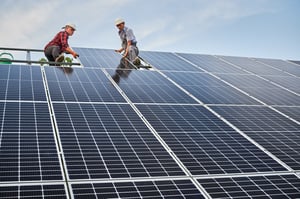 Awareness of PACE – property assessed clean energy – and its utilization have grown significantly since its first adoption more than a decade ago. More than $1.5 billion was invested nationally in 2021 through this public-private partnership that relies on private capital and the public assessment process to fund energy-efficient improvements. But lesser known is that PACE can be applied retroactively, or after construction/installation of eligible conservation measures. Here are some details.
The Benefits of PACE
A PACE retroactive refinancing may offer developers and building owners the opportunity to infuse additional capital into a project or existing facility even if it was financed relatively recently. PACE Equity, LLC recently utilized this structure for a downtown Milwaukee hotel that was originally constructed in 1920. The hotel had recently been renovated, including energy-efficient upgrades, creating 23 guest rooms and common areas but required additional capital for a second phase of renovations adding 20 guest rooms. Having achieved a certificate of occupancy for the first phase, PACE Equity, LLC provided a $2.4 million loan or roughly 16% of the total development cost.
More details on retroactive refinancing benefits are below:
Typically, capitalized interest is greatly reduced compared to new construction since interest does not need to be funded for the entire construction period, which in this case has already occurred. For retroactive refinancings, only the period from closing to the first assessment needs to be funded.
Often times if you have your certificate of occupancy, we can fully fund at closing directly to the client or senior lender. This also saves on a few legal agreements – we don't require a completion guarantee or a disbursement agreement.
Retroactive refinances are often quicker with smoother closings. They are also easier to underwrite which helps move it along quicker through our process.
It's relatively small but our pricing typically gives a 5 bps discount for retroactive refinances compared to new construction projects due to less risk.
Important PACE Considerations
There are a few important tips and rules to take into consideration when it comes to PACE. First, be sure to have good documentation and/or pictures of the measures that were replaced and installed. For example, if it was an existing building that replaced plumbing, electrical, or HVAC, be sure to take pictures of the old HVAC plate, toilets, windows, and fixtures that were replaced. This will help maximize savings and ensure a smoother energy engineering and program approval process.
Also, some states, including Ohio, only permit retroactive PACE refinancings can pay down debt -- which does not allow for equity to be removed from the project as a result of the new PACE assessment.
And don't forget the fine print! Make sure to take the following into account:
The average program requirement is to complete the retroactive funding within 24 months from the certificate of occupancy, although some states do allow a 36-month window.
Our appraisal requirement is typically within 18 months of construction commencement. That means we could close with an appraisal that is 24 months old, as long as it is within 18 months of construction commencement. Note: some programs (like Wisconsin) have their own requirements, like within 12 months of closing, for example.
Note that often times the amortization term has to be reduced by the time period since measures were installed. For example, if a project has a 30-year useful life and the project obtained its certificate of occupancy 1 year ago, most programs would reduce the PACE loan term to 29 years because of the weighted average life rule.
What's Next if You're Considering PACE?
The PACE financing mechanism can be a powerful tool to ensure energy-efficient measures remain part of your project prior to construction, or alternatively a funding source to repay building owners for these investments after a certificate of occupancy. Since PACE relies on state-enabling legislation, it is best to talk to experts in your local market to see if retroactive refinancing is an option for you.
Though Emerald Built Environments can't help you directly with refinancing, we can absolutely discuss, advise and assist you with your current or next construction project. We can not only advise you when and if PACE makes sense for your project, but can help you set and reach sustainability goals!
About Our Guest Writer
Ryan Herchenroether is a managing director for PACE Equity, LLC, one of the country's leading PACE lenders with more than 250 projects funded to date. Ryan previously held the LEED AP BD+C credential while in project management roles for various developers prior to joining PACE Equity and has long pursued a double bottom line approach to development. In his current role, he advises developers, facilities managers, and building owners on whether PACE is a good solution for funding their next project and guides them through the closing process when appropriate.
Bonus Video!
You can also learn more by watching our video on this subject, Paying For a Cleaner Future. As policies to mitigate greenhouse gas emissions roll out globally, business operations are shifting to help guide the world toward a cleaner, more sustainable future. If you own or lease space and want better energy performance, we can help you investigate ways to fund the work. We explore PACE financing as a finance tool.