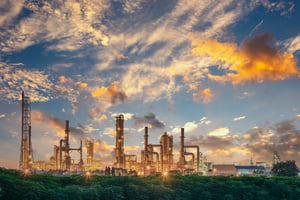 As the calls for proactive action on climate change become increasingly louder, governments and people are noticing the environmental records of the companies and brands they support. For more than a century, environmental degradation was mostly ignored if it meant economic progress. Things are different today. Mastercard reports that 62% of consumers surveyed think it's important for companies to behave more sustainably. People are aware of how businesses impact the environment and are choosing to reward companies that are addressing their impact.
Over the last few decades, consumer product companies such as Patagonia, Whole Foods, and Burt's Bees have led the way by publicly committing to sustainability, employee health and wellness, and transparency in reporting. More recently, the manufacturing industry has started taking actions to address its significant environmental impact--20% of global CO2 emissions and 56% of global energy consumption, according to the World Economic Forum.
While the manufacturing industry has historically been the subject of reforms meant to reduce harmful pollution, it has not traditionally taken the lead on environmental issues--this mindset is beginning to change. Manufacturing is beginning to rethink "business as usual," and this sentiment shift towards a more sustainable future represents a significant untapped opportunity. In Part 1 of this blog, we will explore the reasons why the manufacturing industry is beginning to pursue net zero. Part 2 will further detail strategies for achieving a net zero tomorrow.
What is Net Zero?
Net zero means that the amount of greenhouse gas produced and the amount removed from the atmosphere is balanced in a given time period (usually a year). Greenhouse gas emissions (like carbon dioxide) are the result of everyday operations. And removing carbon dioxide can be as simple as planting trees or as complex as funding the development of new technology.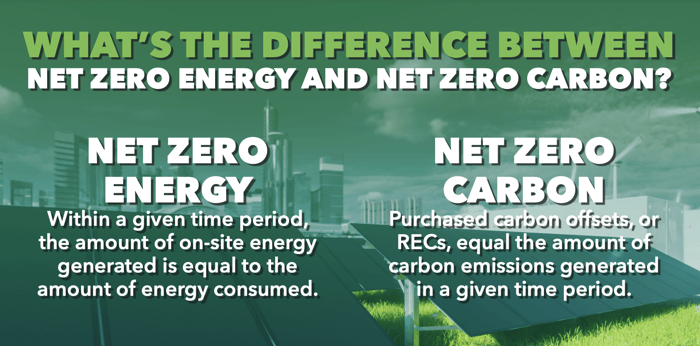 The key to achieving net zero is understanding what you are using so you can create a strategy for offsetting with RECs or on-site generation.
What are the Incentives for Manufacturers to Reach Net Zero?
International Agreements
The most prominent current international agreement, The Paris Agreement, calls on all countries to lower their greenhouse gas (GHG) emissions to keep global warming below 2 °C, and ideally below 1.5°C. In line with this goal, another objective of Paris is for all countries to reach carbon neutrality, or net zero emissions, by the second half of this century.
While today's global regulatory environment is focused on measurable reductions that approach net zero, there is plenty of ground to cover before achieving net zero becomes a reality. As talks continue at the United Nations Climate Conference (COP26), it is expected that more stringent management and monitoring of national-level emissions will emerge. These requirements will likely take the form of mandatory measuring and reporting of GHG emissions, and, to reach their targets, governments will pass emissions mandates on to the business sector.
Manufacturers are the 3rd highest GHG emitters, so they will likely be a focal point of the ongoing discussions at COP26 and future conferences. Companies are going to be required to change. The sooner businesses accept the change by measuring, reporting, and reducing their emissions, the easier the transition to net zero will be when legally required.
Carbon Reduction in Manufacturing Initiative
The Carbon Reduction in Manufacturing Initiative was launched in January 2020 by the World Economic Forum in conjunction with Al Gore's Generation Investment Management. The initiative supports global manufacturing leaders decarbonizing the industry over the next decade. It has the overall goal of cutting global emissions in the industry by 50% by 2030.
The initiative sees the coming transition to net zero emissions as a significant opportunity for businesses to benefit. Through technological innovation and cooperation, companies are encouraged to tap into the massive market to reduce GHG emissions.
Investor and Brand Reputation
Beyond regulatory frameworks developed at the global and national level, customers, employees, and other stakeholders are making it clear they also want businesses to focus on their impacts. The combination of these factors has led to the rise of the Environmental, Social, and Governance (ESG) reporting framework in the business world. Investors pushing this change want to know that their investments are producing not only good returns but also an improved world.
According to a Natixis survey, 77% of individual investors say it's essential that their investments and values are aligned. Knowing that their capital is going towards a conscientious business and working towards a carbon-neutral future is important for many people.
Additionally, businesses are becoming more vigilant about partners, suppliers, and vendors. Companies with a poor environmental track record are increasingly ostracized by organizations that don't want to be associated with known climate polluters. Brand image and net zero commitments are vital to long-term success.
In Part 2 of this blog, we will highlight strategies that manufacturers are implementing to make progress towards net zero. Emerald Built Environments is here to help answer questions about sustainable manufacturing and develop a roadmap to achieving success. Contact us today to learn more!