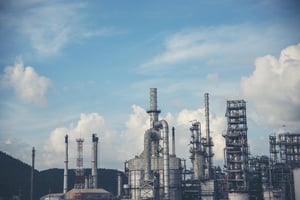 In Part 1 of this blog, we explored the reasons why the manufacturing industry is beginning to look to net zero as a key component of its strategy to improve its impact on the environment. In Part 2, we dive into the strategies that manufacturers can utilize to achieve net zero.
How Can Manufacturing Meet Net Zero Targets?
Measurement
The first step in reducing emissions is measurement. A complete audit of business activities and company facilities can identify areas of operation that are the highest emitters of greenhouse gases and, therefore, are targets ripe for reduction efforts. Continually tracking and measuring emissions is crucial for companies looking to gather accurate and actionable information about operations.
To take a step further, audits of the entire supply chain, including transportation and end-of-life, are an important way to identify business partners up- or downstream that are significant emitters. Pressure on these companies will push them to reduce their carbon footprint or risk replacement with more environmentally conscious operators. As companies continue to identify and remove partners who do not share their sustainable approach to operations, emission reductions will cascade throughout the supply chain.
Emerald Built Environments can help audit facilities across a company's portfolio--including offices, warehouse and distribution, manufacturing, retail, and more. Establishing an emissions baseline will help inform recommendations and ensure a successful outcome is achieved.
Offsets
Buying offsets (also known as Renewable Energy Credits or RECs) is another way for businesses to reduce their net emissions. RECs fund the development of renewable energy offsite, thus presenting an attractive strategy to improve a company's environmental impact.
For many companies and industries, it is not currently economically feasible to further reduce direct emissions from operations or incorporate renewable energy generation. Until more cost-effective solutions are developed, offsets represent a valuable short-term approach to pursuing net zero. Emerald is ready to help your company understand how offsets can fit into your broader emissions reduction strategy.
Reporting
Finally, emissions reporting is a crucial element of a company's pursuit of net zero. Businesses will be held accountable for their actions, and transparent reporting sends a clear message to stakeholders that emissions are being prioritized. Even if targets are missed, detailed and clear reporting demonstrates a commitment to climate action and provides the data required to inform improvement efforts.
Understanding where you are today, being public with employees and stakeholders about your goals, and continuously reporting are critical first steps. In addition to providing visibility into your company's baseline emissions, Emerald is ready to help create the dashboards and scorecards that will enhance reporting efforts and keep you accountable.
Net Zero Regulation is Coming--Don't Get Left Behind
Achieving net zero is a huge undertaking and will not happen overnight. Gradually reducing emissions over an extended period will ensure a more thoughtful and informed approach, thus making the transition smoother. Regulatory frameworks around the world are moving towards net zero, and, if you wait until legally mandated, you risk stressing your business and supply chain at a crucial time.
Additionally, starting this work now ensures you will be ahead of the curve, positioning you to capitalize on the coming changes. While other manufacturers are struggling to redevelop their business to adapt to the new landscape, you will be strategically situated to be an industry leader moving forward.
Energy audits, energy modeling, performance tracking, and consumption analysis are important parts of reducing your organization's emissions. Emerald Built Environments has experience working with clients to develop and implement these strategies and more.
We are here to provide your business with smart recommendations to put you on the path--and keep you on track--to reach net zero. Show your customers, business partners, and investors that you are serious about climate action by reaching out to us today.