In a building's quest for reduced energy consumption and lower emissions profile, design teams are often tasked with evaluating system options for building owners. One such option is district energy. District energy systems utilize a central plant to produce steam and chilled water distributed to buildings through a network of underground pipes. The steam is used for heating and the chilled water for air conditioning.
This process delivers energy efficiency with a high level of reliability. Not only can district energy lower heating and cooling costs, it greatly benefits the overall operating performance of a building.
One Source. Countless Advantages.
Unlike traditional HVAC systems, district energy is a sustainable heating and cooling source. It eliminates the need for capital investment in expensive equipment and/or replacement costs and does not require specialized staff to maintain. Instead, the equipment and labor costs are shared by all the customers on the system.
District energy systems aggregate energy loads and distribute steam or chilled water only when needed so that you only buy what you need. It also creates the opportunity to integrate services so that waste is limited, and resources are optimized. This approach delivers both economic and environmental benefits. 
District energy eliminates the need to install, repair, or replace an internal HVAC system. Instead, energy is created at the central plant and delivered to a building's internal air handlers. As a result, steam and chilled water produced by district energy are always available when the building needs it, regardless of how little or how much it demands. Also, since space for expensive boiler or chiller equipment is no longer needed, customers can benefit from the extra space.
District Energy can integrate renewable energy technologies into their systems much easier than individual property owners can with their in-building systems. Clients connected to district energy systems will be able to avoid carbon taxes and other mandates designed to drive carbon emissions reduction goals consistent with the incentives outlined in the Inflation Reduction Act.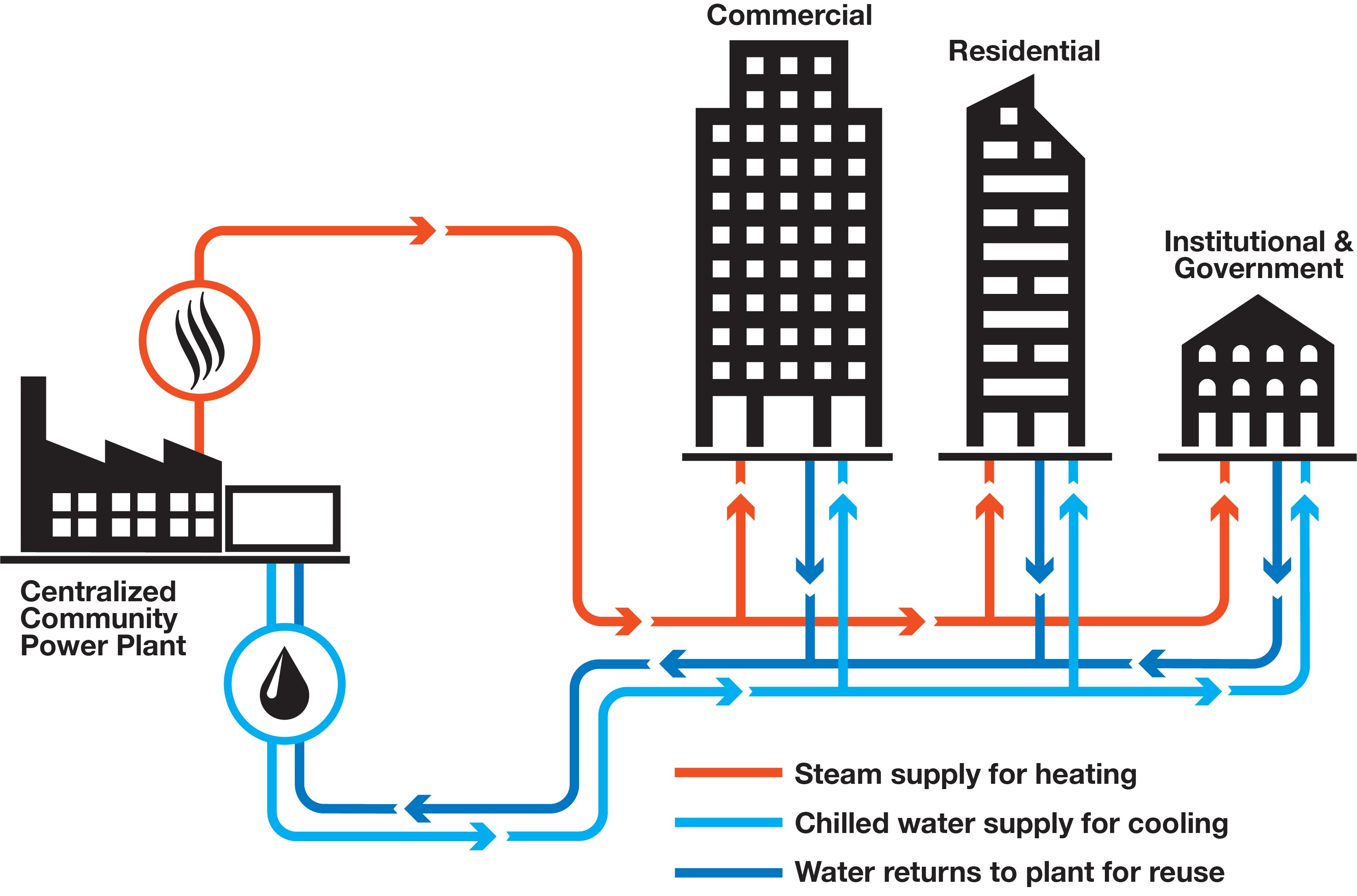 By combining loads for multiple buildings, district energy systems create economies of scale that help reduce energy costs and enable the use of high-efficiency technologies.   
What Projects Can Use District Energy?
Ground up new construction
Incorporating a District Energy (DE) solution into ground-up new construction projects maximizes reliability, energy efficiency, and sustainability for property stakeholders. If the new property or development is within the reach of an existing DE system, thermal energy can be delivered directly to each location, which eliminates the need for expensive boilers, chillers, pumps, and cooling towers. DE also reduces operating costs while simplifying the operation of the properties. Stakeholders then will procure the thermal energy they require through established contractual agreements through a utility rate structure.
If the property or development is not close to an existing DE system, then a Temporary Energy Center (TEC) and associated piping infrastructure can be installed during the initial stage of the project and can be expanded to match the energy load requirements as the project builds out. This approach enables property developers and property owners to creatively finance the capital costs of the DE systems over a long-term agreement through a utility rate structure. This enables capital to be invested strategically to ensure project goals are achieved.
Commercial located in a district energy utility space
Commercial properties that are located within a DE system footprint can take advantage of the reliability, energy efficiency, and sustainability benefit that DE has to offer. Commercial property owners are challenged with controlling their O & M costs while planning for capital reinvestment into their property as HVAC systems reach the end of their service life and require replacement. District energy provides property owners with a solution to control their energy costs through energy service agreements while avoiding the investment of capital in the replacement of chillers, boilers, cooling towers, and pumps.
Renovations with "space" to add the required systems/plant
When property owners are planning a renovation of a project, they have options if they can connect to a DE system. Along with the previously stated advantages of capital cost avoidance and reducing O & M costs, additional usable space can be obtained by repurposing the areas that housed the boilers, chillers, pumps, and cooling towers. Many clients have increased their leasable space by implementing this strategy while also providing inviting spaces for tenants to relax and enjoy the outdoors with rooftop gardens and lounges.
Putting the Power in Your Hands
When it comes to building operations, property owners encounter many challenges. With district energy, the burden of producing heat and cooling on site is eliminated. In its place is a reliable source of consistent comfort for building tenants. And it is delivered with the environment and sustainability in mind.
District energy allows building owners to focus on maximizing their property's value. With the ability to manage energy costs, improve operational efficiency, and eliminate long-term risks, heating and cooling can become an asset with long-term benefits.
See How District Energy Works
Cleveland Thermal has developed a video to demonstrate how district energy works. You can view the video HERE.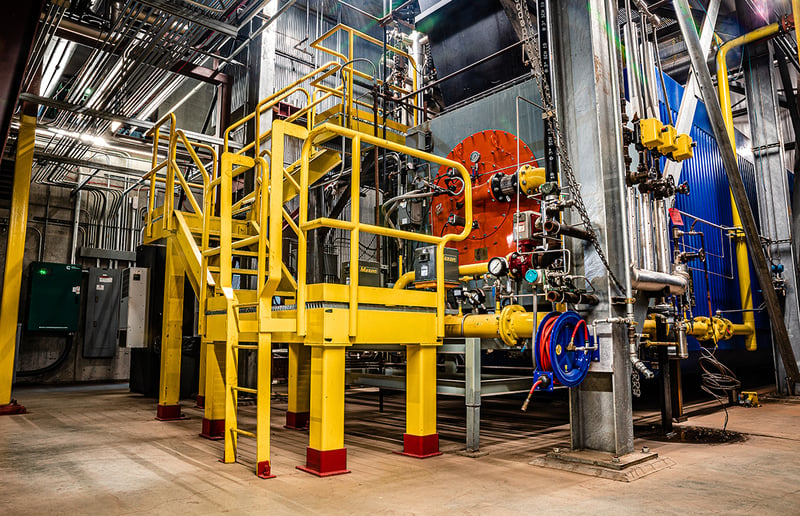 As shown in the above image, Cleveland Thermal recently installed new energy-efficient boilers that are designed to provide steam heat to more than 30,000 square feet of space.  
Need Help Improving Energy Efficiency?
As we support our clients in achieving their building performance goals, we use energy modeling as a design assist tool to evaluate various systems, including district energy. An important piece of the puzzle is understanding project goals and target performance metrics to guide system selection. Let Emerald help you set and achieve your project goals.
About Our Guest Writer
Eric Swain is the CEM Director of Business Development & Energy Services for Corix - Cleveland Thermal. Eric has 28 years of experience in the HVAC field, working for some of the top organizations in the industry, such as Siemens, Gardiner, Daikin, and Corix - Cleveland Thermal. His tenure includes experience with mechanical contracting, building automation systems, OEM mechanical service, and Energy Optimization solutions.